As of January 2021, the European Union Aviation Safety Agency (EASA) has implemented new regulations on drone management across the European Union (including all 27 EU-members, Iceland, Switzerland, Liechtenstein and Norway). The goal is to provide a unified rule structure for drones operating in these countries. Previously, the drone management scenario in the EU was highly fragmented, with each country adhering to its own rules and regulations. Experts believe that this unified model will streamline the regulation process by making drone operations easier and safer for everyone.
New Regulations on the Classification of Drones
The new regulations stipulate that all drones must be classified under three categories: Open, Specific, and Certified. Along with the risk factors, these categories give prevalence to the weight, certification, qualification of the operator, and operational features. For a smooth transition, EASA has decided to use the 'Limited Open Category' for the next two years (2021 and 2022). This gives users ample time to get familiar with the new policies. During this transition period, leisure drone operations should ideally fall in this category.
According to the category guidelines that will be in place in the current two-year period, drones weighing under 2kg can fly as close as 50 meters to uninvolved people. However, drones weighing over 2kg will need to maintain a minimal horizontal distance from uninvolved people of 150 meters. They also necessitate that the pilot undergoes an online training program as defined by the National Aviation Authority (NAA). In the case of Austria, this would be Austrocontrol, found at Dronespace.at. See the table below in Figure 1 for more detailed information on the limited open categories.
Additional information on the open category for civil drones can also be found on the EASA site. The image below Figure 1 displays a sample pilot's license for the open category as issued by Austrocontrol as a proof of completion of the online training program.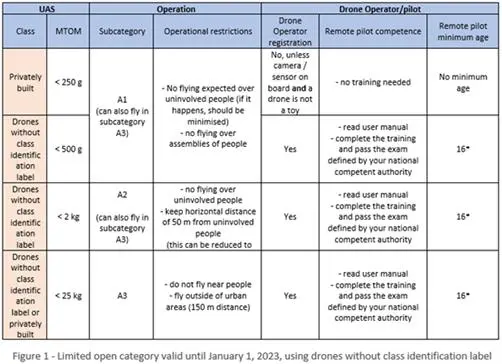 Since December 31, 2020, the registration of a drone operator is mandatory, whereby an operator is required to obtain a valid registration number. Once the registration process is complete, the operator must register the drone with the NAA, and secure liability insurance through an insurance company. Furthermore, a drone should clearly display the operator's registration number – much like a car's license plate. However, a point to note here is that the operator's registration number and the ID Number of the pilot are not the same. Every pilot must have their own unique ID whereas several drones belonging to the same owner can use that operator's same registration number.
Regulations Concerning the 'Open Category'
From January 1, 2023, open category drones can carry a camera but will not transport consumer goods. These drones are for leisure use and do not require authorization from NAA to carry out their operations. Once this classification goes live, the drones can be operated as described in the table below: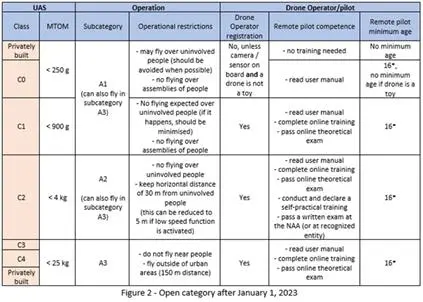 At first glance, the C2 class looks like a potential match for inspection drones since they weigh less than 4kg. Therefore, it can be assumed that drones intended for structural inspection can fit comfortably in this class. From an operational perspective, drones carrying a high megapixel camera with a full format or Advanced Photo System-C (APS-C) sensor, essential for Ground Sampling Distance (GSD), can weigh under 4kg. Larger drones come with their limitations, however, and data collection teams need to be aware of these. For instance, a drone with a 2-meter radius cannot possibly reach the underbelly or the side structure of a bridge.
Class C2 drones are allowed to fly within a 30-meter distance from uninvolved people. These drones, however, have operational challenges, as taking photos from that sort of distance using a camera equipped with an APS-C sensor will not provide results of adequate quality. Fortunately, there is a way to overcome this challenge. The new guidelines say that a drone at low speed can fly close to a 5-meter radius from uninvolved people. Low-speed mode can be activated and controlled using a GPS/GNSS system. This system comes with a crucial limitation; in a worst-case scenario, if the GPS signal is compromised, safe operation cannot be warranted even if the drone is equipped with sufficient obstacle avoidance sensors. Hence, this category is unlikely to prove optimal for inspection drones.
Understanding Regulations for the EASA's 'Specific Category'
Drones posing a greater risk than the ones defined under the open category are classified here. Three possible options allow drones to fit into this category:
Standard Scenarios (STS)

Complying with certain chosen scenarios, the drones must adhere to the operational guidelines under Standard Scenario published by the EASA or NAA. In addition, the operator must submit a valid declaration of their operational needs to the mentioned institutions.
Risk analysis
Drones under this category must submit a risk appraisal as per NAA standards by undergoing the Specific Operations Risk Assessment (SORA) or the Predefined Risk Assessment (PDRA) – or appropriate alternatives accepted by the NAA. After careful analysis of the risk mitigations and considering the solutions, the NAA declares a drone safe to operate and provides the necessary authorizations to the pilot.
Light UAS Operator Certificate
The mission is carried out under the supervision of an operator who has a Light UAS Operator Certificate (LUC).  
This category is most suited to include structural inspection drones because the rules allow drones in the 'Specific Category' to fly Beyond Visual Line of Sight (BVLOS) and define the minimum distance to uninvolved people, which we suggest to be 5 meters. Crucial to collecting data from inaccessible places, these drones can reach the crevices within the bridge's structure to take images, even when they are not in the visual line of sight of the pilot.
For more information on the Specific Category, you can visit the dedicated EASA site.
To learn more on the list of current STS and SORA/PDRA, please refer to the following document.

Regulations for the 'Certified Category'
Certified category drones are for major operational needs such as the movement of people and dangerous goods that pose the highest possible risk of accidents. This category of drones is worth mentioning but is not relevant for the applications of structural or damage inspection.
How will the new regulations affect data collection teams?
From experience, we know that for data collection teams, drones that use a GPS/GNSS signal, pose a higher risk of position mismatch, especially when they are close to a structure – or under it. Often, companies do not allow the flight of drones operating using this technology as it implies safety hazards. A drone working on unsafe data is at the mercy of unfavorable outcomes like unnecessary corrections of the drone position that can eventually lead to a crash.
False sensory data can also be generated if a drone's compass comes close to the structural components of a bridge, suffering interference from steel and metal. Another point to consider here is that the barometer of the drone can be influenced when a vehicle passes by. We suggest that a drone should be navigated by an experienced pilot through a First Person View (FPV) system, using FPV goggles. This option provides a pilot with more control and reduces the likelihood of errors caused due to external disturbances. According to the new EASA guidelines, a drone matching these requirements can only fit in the Specific Category.
The current EASA standards preclude the possibility of including such standard scenarios. As a result, the better option is to have the drone registered using the SORA or PDRA. Our research shows that the ideal way to register a drone such as this is through the PDRA-G01. Since this program does not include a geo-awareness system, the drone must store information on its position, height, speed, roll, pitch, yaw, and trajectory. This could be solved with a GPS/GNSS module which does not interfere with the flight controller. Lastly, drones that are registered using PDRA certifications can fly BVLOS, which is a significant help when it comes to bridge inspections.
With time, we hope that the EASA's standard scenario list will be expanded to include these types of specific operations, for data collection purposes. But as of now, the list looks a little incomplete, with no references to this kind of operation.
For more information on SORA/PDRA, please refer to the relevant EASA document.
Regulation Highlights Concerning Drone Categories and Inspection:
From 2023, Open Category drones can carry a camera but will not transport consumer goods
Open Category drones are for leisure use and do not require authorization from NAA to carry out their operations
Class C2 drones are allowed to fly within a 30-meter distance from uninvolved people. Too many limitations make this category suboptimal for inspection drones
Specific Category drones must adhere to operational guidelines under the Standard Scenario published by the EASA or NAA
Specific Category drone operators must submit a valid declaration of their operational needs to the relevant institutions
Specific Category drones must submit a risk appraisal as per NAA standards by undergoing the Specific Operations Risk Assessment (SORA) or the Predefined Risk Assessment (PDRA)
Do you want to level up your digital inspection and data capturing skills? Have a look at our Trainings and Certifications, provided by STRUCINSPECT experts.