Customized Business Solutions
Are you ready to transform to holistic Digital Infrastructure Lifecycle Management?
Infrastructure assets like Bridges, Tunnels, Dams and others need recurring inspections to ensure a safe and effective operation. Regulations such as DIN 1076 or equivalents need to be adressed.
Michael Viktorin
English, German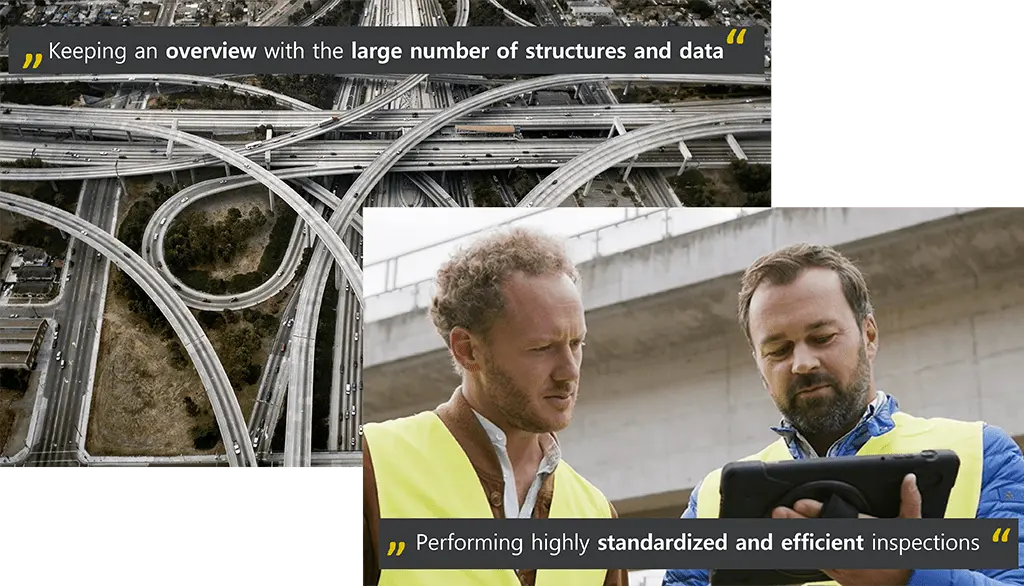 With the STRUCINSPECT solution, all involved parties can utilize all advantages of one open platform and…
… a unique artificial intelligence working according to principles of trustworthiness.

Yes, efficiency can be one major reason for truly digitized infrastructure asset management. But there is so much more: consistent and impartial detection results, increased reliability, lifecycle analysis thanks to comparisons in recurring inspections, or simply completely new business opportunities for engineering offices are just some examples for your inspiration. Just see how others already took advantage.
Successful transformations to
Digital Infrastructure Lifecycle Management
Masterminds are working with the market leader and innovator. Engineering offices as well as asset owners / operators. Get a glimpse in the long list of partners who already trust in and collaborate with STRUCINSPECT.
Bridges
Highway-bridge A99, Munich region/Germany
BIM as-built modelling
Reference "Highway bridge, A99 Bavaria"
Tunnels
Metro tunnel network, United States of America
Reducing off-time and associated cost
Reference "Metro Tunnels, USA"
Hydropower Dams
Voith and STRUCINSPECT provide inspection solutions for the Hydro market. Eg. Clunie Dam (SSE), Scotland
Reference "Hydro Dams"
Just to be clear: STRUCINSPECT is not "only" about digital inspections. With the Infrastructure Lifecycle Hub, STRUCINSPECT covers the whole field of digital infrastructure asset management. From asset administration, via digital inspections and lifecycle analysis up to maintenance management. Get in touch with us to learn more.
Holistic administration of infrastructure requires multidisciplinary information. At STRUCINSPECT all data from finance, engineering and operations are centralized and available for inquiries, analyses and further processing.
Having a full range of possibilities defines a good digital inspection software. With STRUCINSPECT you easily organize inspection data, rate damages, define measures and assess structural condition producing meaningful inspection results in line with your individual demand.
Data analysis provides deep insights and integrated views. STRUCINSPECT turns your asset data into economic long-term strategies from construction to operation and maintenance over its expected useful life.
Budget-friendly maintenance work requires efficient workflows. In STRUCINSPECT you enhance data and recommendations from the inspection to maintenance tasks and document all actions till approval of executed repairs.
Let's start with a first touchbase!
POR FAVOR LLENE EL FORMULARIO PARA DESCARGAR LA HOJA INFORMATIVA
BITTE FÜLLEN SIE DAS FORMULAR AUS, UM DAS FACTSHEET HERUNTERZULADEN
Please fill the form to download the BROCHURE
POR FAVOR LLENE EL FORMULARIO PARA DESCARGAR LA HOJA INFORMATIVA
POR FAVOR LLENE EL FORMULARIO PARA DESCARGAR LA HOJA INFORMATIVA
POR FAVOR LLENE EL FORMULARIO PARA DESCARGAR LA HOJA INFORMATIVA
BITTE FÜLLEN SIE DAS FORMULAR AUS, UM DAS FACTSHEET HERUNTERZULADEN
BITTE FÜLLEN SIE DAS FORMULAR AUS, UM DAS FACTSHEET HERUNTERZULADEN
BITTE FÜLLEN SIE DAS FORMULAR AUS, UM DAS FACTSHEET HERUNTERZULADEN
Please fill the form to download the Factsheet
Please fill the form to download the Factsheet
Please fill the form to download the Factsheet