The world's first hub for digital inspection and lifecycle management
Holistic administration of infrastructure requires multidisciplinary information. At STRUCINSPECT all data from finance, engineering and operations are centralized and available for inquiries, analyses and further processing.
Having a full range of possibilities defines a good digital inspection software. With STRUCINSPECT you easily organize inspection data, rate damages, define measures and assess structural condition producing meaningful inspection results in line with your individual demand.
Data analysis provides deep insights and integrated views. STRUCINSPECT turns your asset data into economic long-term strategies from construction to operation and maintenance over its expected useful life.
Budget-friendly maintenance work requires efficient workflows. In STRUCINSPECT you enhance data and recommendations from the inspection to maintenance tasks and document all actions till approval of executed repairs.
GAIN ACCESS TO SERVICES AND EXPERTS
Become a part of our Infrastructure Lifecycle Hub and take advantage of digitizing your assets and work in an easy accessible digital environment.

Include your team as editing users and collaborate together, organise your projects and share them with your stakeholders to view.

Digital Inspection Services
As part of your membership, you get the opportunity to sign-up for our digital inspection services.

Each of our services such as AI-assisted damage detection, Images to 3D model or 3D Damage Mapping or all of them together, will take your digital inspection to the next level!

AI-Assisted Damage Detection
Allow our artificial intelligence to do the manual tedious work for you, so that you can focus on the things that matter the most. Five different concrete damage types are easily detected by our neural network from 2D images. Be part of the AI-Volution with our AI-assisted damage detection service!
You can transform your 2D images into a digital 3D model effortlessly, by using our Images to 3D Model service. Experience the advantages of working with 3D data in your digital inspection workflow. Enter the 3D workspace and produce your own realistic digital representation of your assets!
To make the most out of your AI-assisted damage detection and Images to 3D Model services, automatically map the damages that were identified on your uploaded 2D images onto your 3D model. Switch between dimensions and exploit their advantages with our 3D Damage Mapping service!
With STRUCINSPECT you can take your structural inspection and asset management to the next level. All stakeholders benefit equally from more efficient work steps, precise results and the sustainable usage of the database.
Infrastructure Operators
and Asset Owners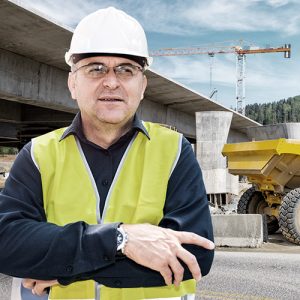 Contractors for maintenance works
Looking for a new opportunity?
We are looking for open-minded, independent thinkers and highly qualified team members to turn our future visions into reality.